Womens Gym Bag with Shoe Compartment – Things to Look for While Buying!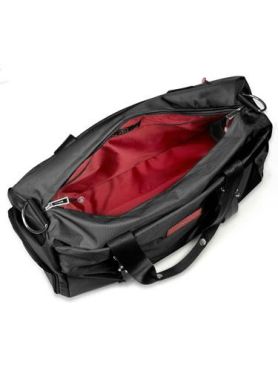 Buying a women's gym bag can get a bit confusing because of the vast range of options in the market. There are several things that you need to consider when buying a women's gym bag. Let's have a look at them.
Size
Size of the gym bag is one of the most important factors. Neither you want a too small bag small that doesn't have enough space, nor do you want such a large bag that does not fit into your office or gym's locker. 'Bigger is better' approach does not work well when it comes to gym bags. Definitely, you would not want to carry a shapeless sack full of workout gears with you in office. Therefore, when looking for womens gym bag with shoe compartment, choose womens gym bag with compartments that can easily accommodate your gym essentials without being neither too empty or too full, and easily fit into your office and gym's locker as well.
Compartment
After a hard workout session, the first thing anyone wants is to get rid of the sweaty workout gears and stinking shoes. Therefore, when you are looking for womens gym bags, make sure you browse for bags with the multi-compartment design so that you can easily store your stinking garments and a soiled pair of workout shoes in a separate compartment of the bag. One or two compartments of a bag can be reserved for storing workout shoes and sweating garments. If you want to carry your gym bag to the office, make sure that your bag has one padded compartment to accommodate laptop or Macbook. Multiple compartments will allow you to keep your stuff organized in a gym bag.
Material
The lifespan of a gym bag depends heavily on the type of material used for manufacturing the bag. If you are looking for a long lasting womens gym bag with shoe compartment, buy a gym bag made of nylon, cotton, or polyester. These materials are highly durable, water resistant, odor resistant, and light in weight. Your gym bag does not need to be 100% waterproof, but make sure that at least it is made of semi-waterproof material. Gym bags made of nylon are most preferred because these do not absorb moisture and odor and easy to clean as well. You can easily clean nylon bags with mild soap and water.
Looks
Looks of a bag matter a lot! You do not want to buy a gym bag that you feel awkward to carry along with you. Therefore, choose the color, design, and style of your gym bag wisely. If you are going to the gym after or before office, most probably you would carry your bag to the office. You do not want your bag to tell everyone that you have made a new year's resolution of going to a gym. Choose a decent color such as navy blue, back or gray, when you have to take your gym bag to the office. However, if your schedule is such that you directly go to a gym and comes back, then you can look for a more colorful and sporty gym bag than a formal bag.
Cost
It is one of the most important factors which influence the decision of many buyers. No doubt we all want value for money. Therefore, it is very important to compare the prices of gym bags of different companies before buying. Do not fall for lower prices. Compare the quality of the material, zippers, and stitching of bags. Compare special features of bag and warranty offered by companies. After weighing all factors, make your final decision of buying.
These are the five things you need to look for while buying womens gym bag with shoe compartment.
If you work out regularly at the gym or if you have made a new year's resolution to start doing so, then buying a women's gym bag with shoe compartment is a great idea. But make sure, you invest some time in your research of finding a good, high-quality, long-lasting and stylish women's gym bag.